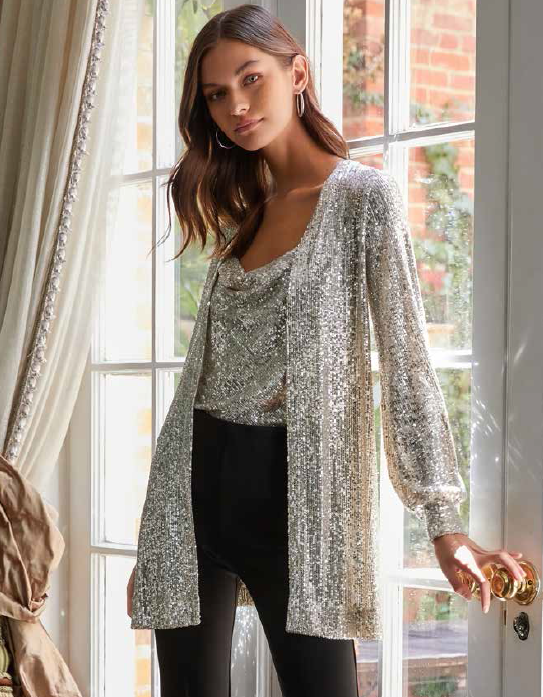 This time of year brings about a change. Fall is here; the weather has changed, our winter friends are returning, events are filling our calendars and those summer clothes just aren't as appealing as they were in June.
While this is a tragic time for many in our community, we must embrace the changes in our lives, thus making us more resilient and able to move forward. I myself have never been a real fan of change, but I'm getting on-the-job training! The one area of change of course, I have always loved is fashion and fall fashions will not disappoint.
This season's trends are just what we need right now, one of the distinguishing characteristics of fall is sparkle, lots of sparkle. Look for a sequin tank, sequin pant, or sequin blazer. Add a little sparkle to whatever you're wearing, and you will be on trend.
Along with those sequin sparkles, satin is a staple fabric. Dispel that thought process of wearing these things only for formal wear; wear with jeans and flip flops; no time better than the present to wear your clothes.
Our warm weather dictates many of our fashion choices; thus, the faux leather and suede that is popular now will be perfect for our temperate climate, and the best part, most of it is washable.
Showing a little skin this season is an option; cut-outs are everywhere, in dresses at waistlines and sleeves, on denim, of course, and blouses on a variety of locations; skin is in!
The term retro is apparent in the color palate this season, hello chocolate brown, olive green, mustard, wine, and copper. I grew up in a house with those colors, and they are back for fall 2022!
Denim, my personal favorite, is showing up as high-waisted, cropped, cropped flared, full-length flared, easy boyfriend cut, skinnies, distressing, detailed hems, and anything in between; remember, you're going to wear these with some satin or sequins.
Let's be honest, no matter what's happening in your life a new pair of shoes makes everything better. Shoes this season are amazing; square toes, block heels, sexy ankle straps and the comfort shoe we all love, sneakers. Sneakers come is every shape, color, material and embellishment. Grab a pair to wear with your new satin skirt.