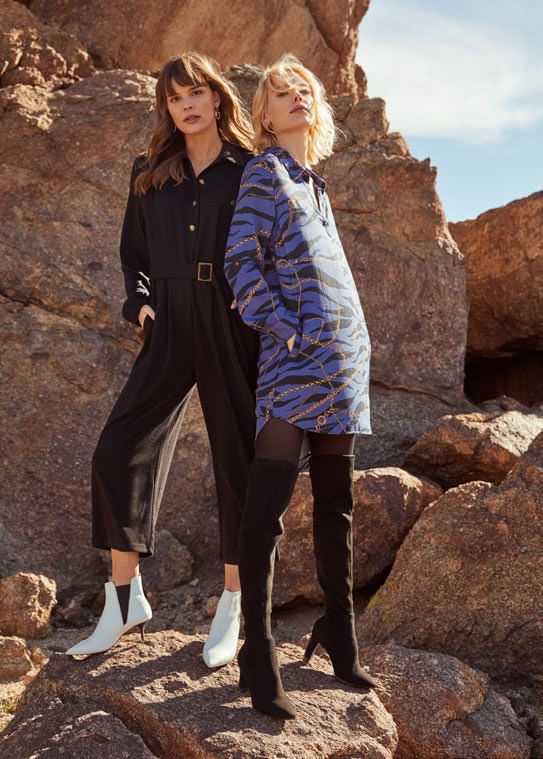 It's not even the end of September and the weather is changing. I know we live in Florida, but for those of us that endure the long hot summer, we know when the humidity drops and there is a breeze in the air! It REALLY IS FALL!
The fall season offers some of the best clothing of the year. As I begin my 37th year of bringing fashion trends to Southwest Florida, fall 2019 has the best to offer.
Some of my favorite decades have made a comeback. Hello 1970's bell bottoms and wedges, and welcome back 1980's shoulder treatments and blazers. If you have glanced at any fashion magazines lately you might have wondered what's going on! Who is wearing those androgynous styles? And where are they wearing them? I can tell you that when you walk into Jennifer's this season, you won't ask that question.
This fall you must get in touch your animal side. It doesn't matter what animal, you will see them all; cheetah, jaguar, zebra, tiger, and leopard to name a few. If you're not that girl, take is slow with a shoe, belt or handbag, but you must have something with animal print.
Denim is a forever fall favorite, and they come in every conceivable shape and size, and their waistline is coming UP! Hence they can be worn with some of those great tops that may appear a bit shorter, but never fear they aren't that short. Another hallmark of the season is the blazer, so you can rest assured you will want at least one blazer for fall. The blazer of this season won't be that stiff "office" one from your past, something much softer and more pared down.
The fall color palette is scrumptious, the tried and true harvest colors will be overshadowed by every shade of olive, camo, khaki and drab green you can imagine and navy is truly here to stay. Winter white and soft shades of pink will play off these colors beautifully.
Look for shoulder details, with soft draping, pants of every length and width, and skirts are positively trying to make their claim this season with the midi, another past favorite that looks great on everyone.
Fall 2019 is the season to reinvent yourself and try some new things; crop flare pants with booties, possibly white booties at that! Try a color you've never worn before, a blazer with everything from jeans to a little black dress and look for some higher rise pants.
Have fun this season, be open to something new and always stay true to your style.