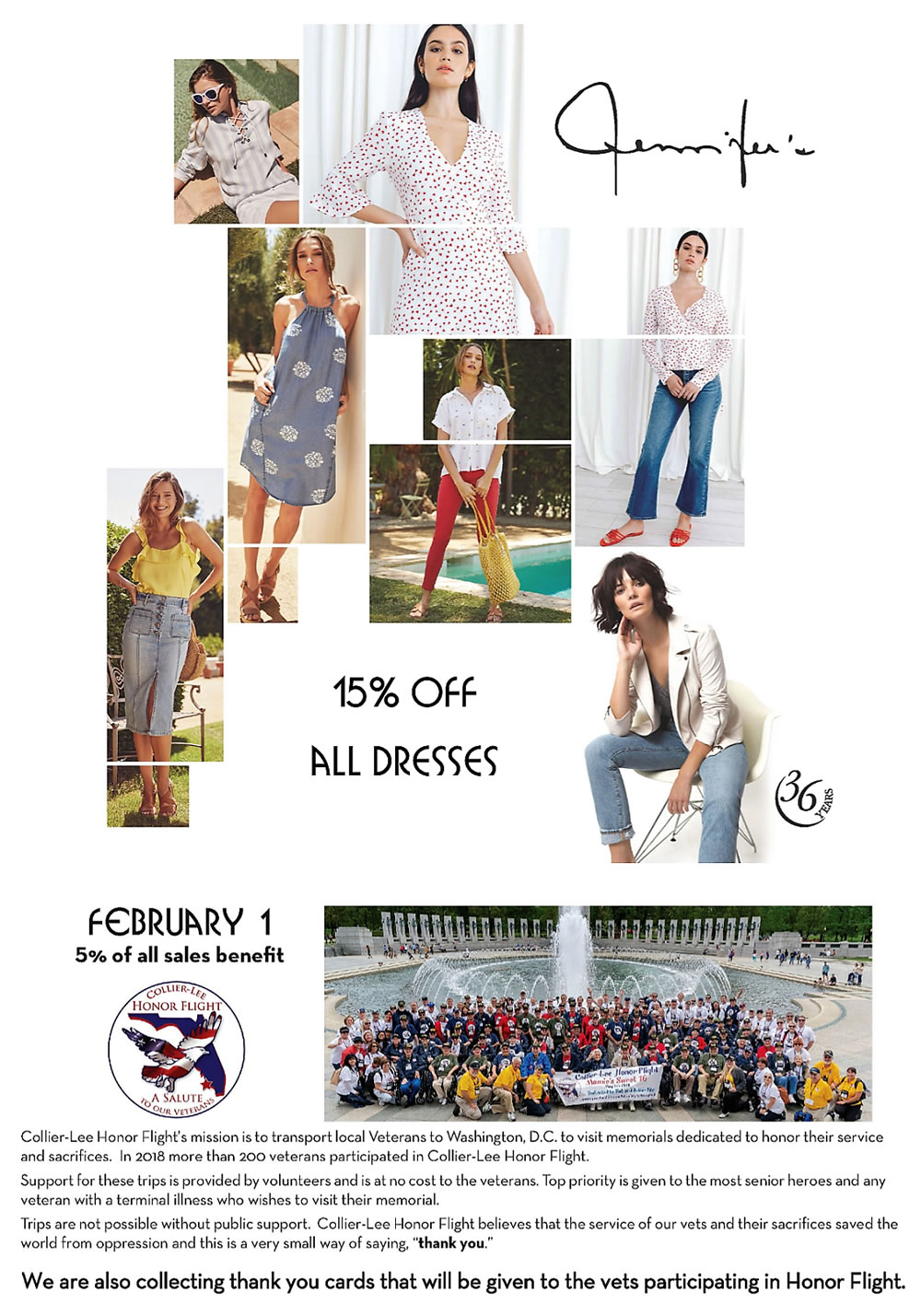 Jennifer's women's boutique is celebrating 36 years in business by giving back to local charities at "Fashion Forward Friday" events through April.   Collier-Lee Honor Flight will receive 5% of all sales on Friday, February 1 from 10:00 a.m. until 6:00 p.m.  Shoppers will enjoy champagne and cupcakes and will receive 15% off all dresses.  In addition, Jennifer's will be collecting thank you cards that will be given to veterans participating in Honor Flight.
Collier-Lee Honor Flight's mission is to transport local Veterans to Washington, D.C. to visit memorials dedicated to honor their service and sacrifices. In 2018 more than 200 veterans participated in Collier-Lee Honor Flight.  Support for these trips is provided by volunteers and is at no cost to the veterans. Top priority is given to the most senior heroes and any veteran with a terminal illness who wishes to visit their memorial. Trips are not possible without public support. Collier-Lee Honor Flight believes that the service of our vets and their sacrifices saved the world from oppression and this is a very small way of saying, "thank you."
Jennifer Williams opened her Fort Myers boutique in November of 1983.  Her unique and timeless sense of style and personalized service has created a loyal following.  Jennifer's is located at 13251 McGregor Boulevard in The Design Center and is open from 10:00 a.m. until 6:00 p.m. Monday through Friday and 10:00 a.m. until 5:00 p.m. on Saturday.  Call (239) 481-8582 or visit Jennifer's online at jennifersfortmyers.com or on Facebook or Instagram.