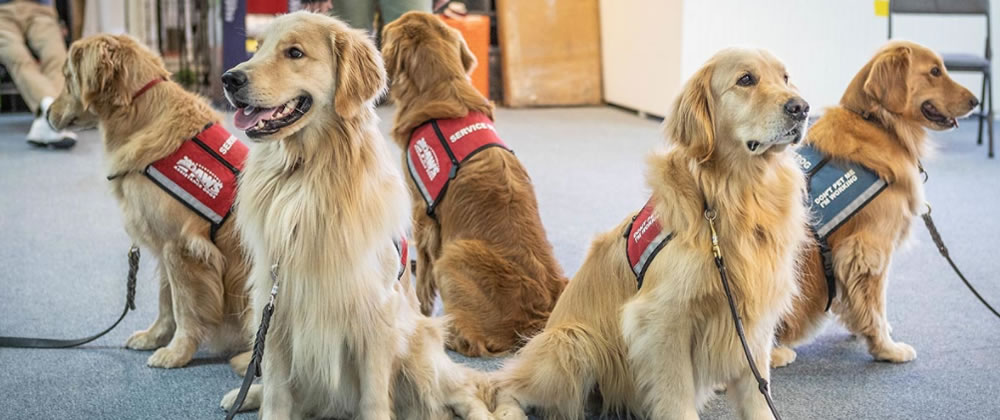 Jennifer's women's boutique is celebrating 39 years in business by giving back to local charities at "Fashion Forward Friday" events. Golden PAWS Assistance Dogs (GPAWS) will receive 5% of all sales on Friday, November 5, from 10:00 a.m. until 5:00 p.m. Shoppers will enjoy champagne and cupcakes and will receive 15% off all jeans.
Founded in 2012 and located in Naples, FL, Golden PAWS Assistance Dogs is a 501(c)(3) nonprofit organization that promotes independence for combat wounded veterans and children with life-changing disabilities through partnerships with skilled assistance dogs. The service dogs are always placed at no cost to those they serve.
Jennifer's will also be collecting much-needed items for GPAWS including paper towels, 10 or 55 gallon trash bags, bleach, Lysol, Fabuloso multi-purpose cleaner, air freshener, laundry detergent pods, dish and hand soap, toilet paper, all size Kong toys and gift cards for gas, Petsmart, Home Depot, Publix, Walmart, etc.
Jennifer Williams opened her Fort Myers boutique in November of 1983. Her unique and timeless sense of style and personalized service has created a loyal following. Jennifer's is located at 13251 McGregor Boulevard in The Design Center and is open from 10:00 a.m. until 5:00 p.m. Monday through Saturday. Call (239) 481-8582 or visit Jennifer's online at jennifersfortmyers.com or on Facebook or Instagram.