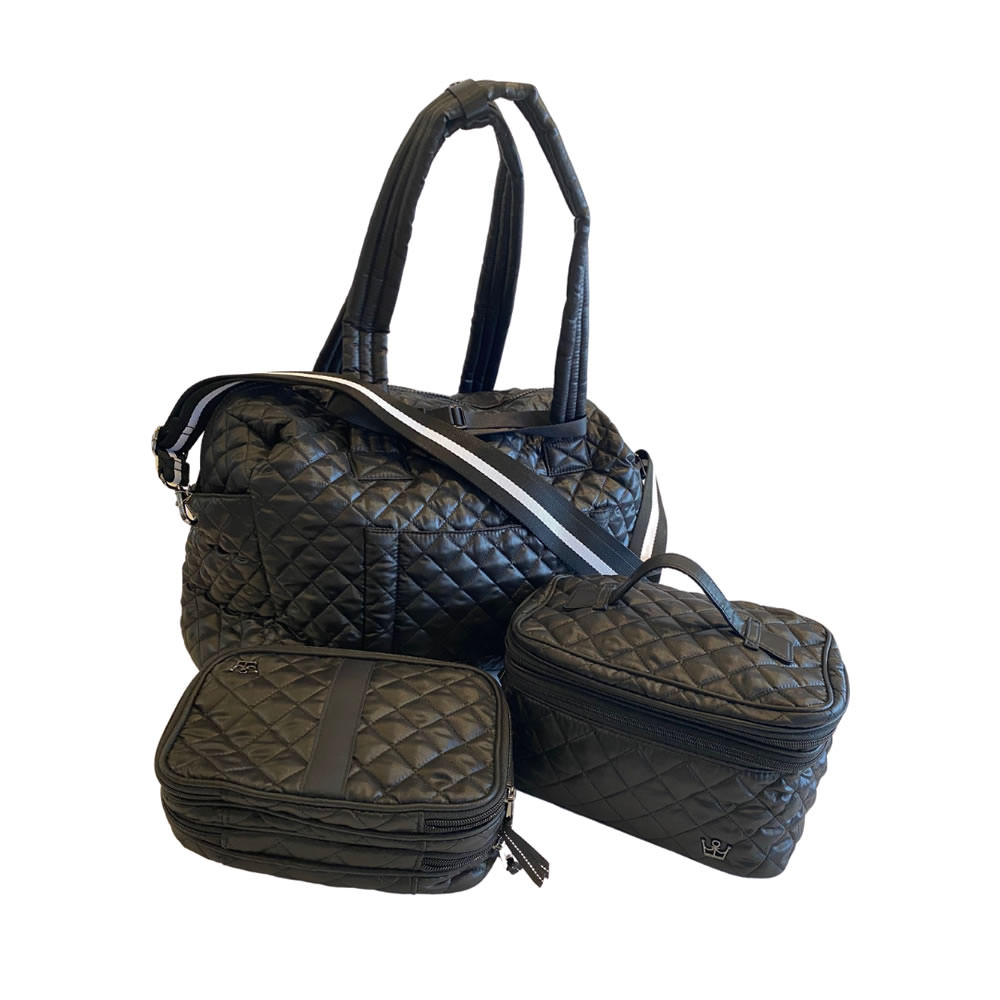 Travel is something everyone enjoys; the chance to recharge, be entertained, be educated and have fun. No matter whether it's a weekend to visit family and friends or an exotic new locale, nothing refreshes the soul like time away from home.
If you've been lucky to get away recently or you're looking toward the future, packing can be a daunting task; I've got some packing tips that will make your life a bit easier. Visiting a warm-weather climate or a winter wonderland will, of course, change this basic travel wardrobe but this gives you a great base to build on.
I like to start with a core color; something that will allow you to mix and match and limit you taking too many shoes, the bulkiest of items. If you know me, for me that is always black, but could as well be navy, brown, or khaki depending on your taste.
Let's begin on the bottom: a great pair of pants (true pants), a fabulous pair of jeans and a versatile skirt. If you're traveling to a warm climate, the addition of shorts would be essential. Keeping these items in a neutral color will allow you to wear them multiple times with different tops and not feel like you are repeating.
A great blazer is a necessity. Wear it with pants, shorts, jeans or over a dress and it takes these all to the next level, also providing warmth.
The top selection can be as varied as you want, but I like to include a dressy blouse and several knit tops, again depending on climate, a sweater can work well. Bring in color here, especially for layering to change up your look.
A dress is always a great choice, like your other core pieces can be dressed up or down with a variety of accessories, even possibly using it as a duster.
Daytime looks can be achieved with a crepe skirt and simple tee shirt and sneakers or flip flops. Use that same skirt and change your shoes, a dressy top and you can go to the formalist of affairs.
I try to wear my bulky shoes to travel with avoiding that extra weight in my suitcase and pack the lighter ones. Wrapping your garments in plastic (dry cleaner bags) helps reduce wrinkling, and with so many wonderful new microfibers and knits, wrinkling is almost nonexistent.
If you have a trip planned or you're looking toward the future, let us help you coordinate a core travel wardrobe, or let us create a unique look that fits your travel plans and your lifestyle.
Sincerely,
Jennifer
P.S. Our store is open Monday-Saturday 10-5, but if you would prefer to set up a private shopping appointment, contact us by phone or text at (239) 223-8512.