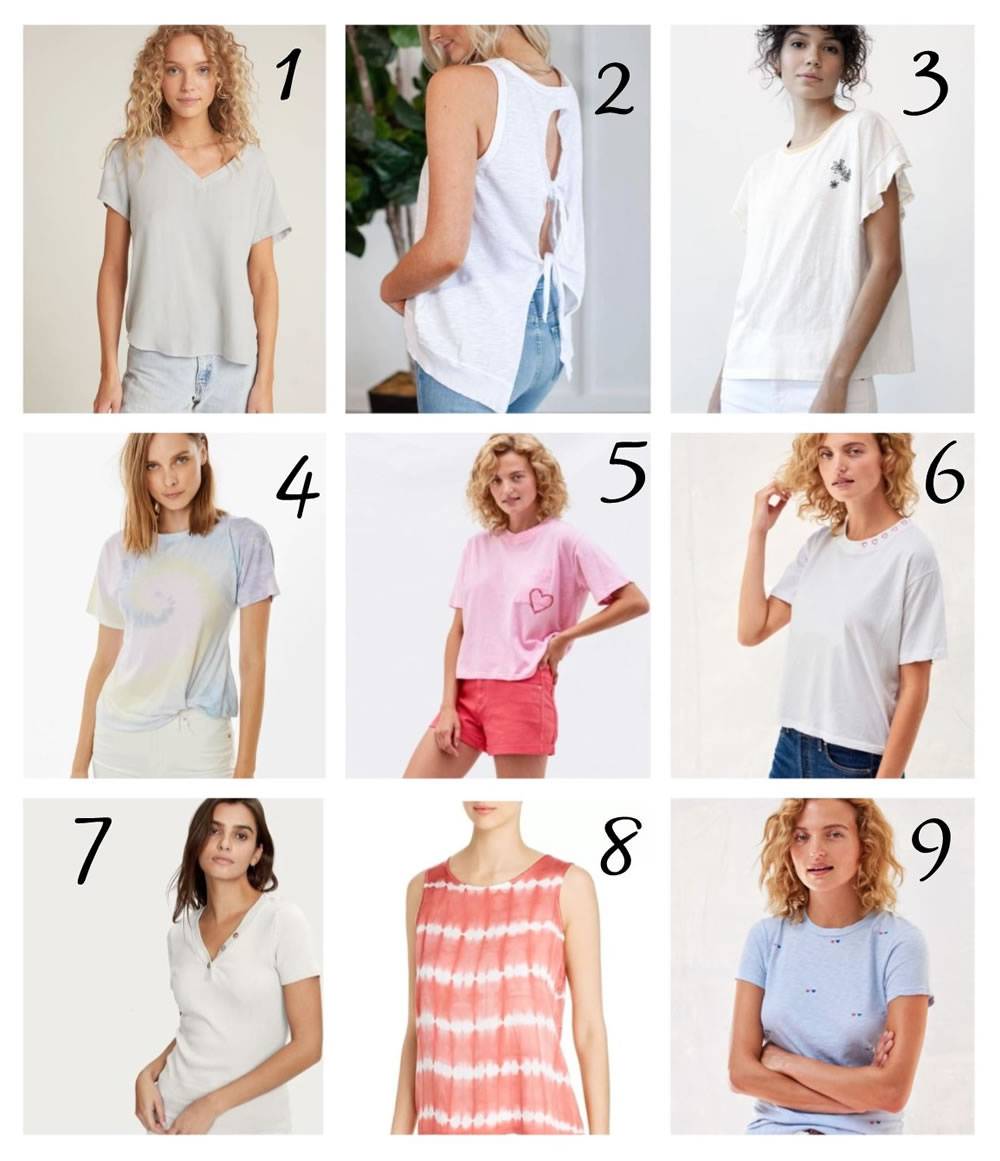 As the weeks have sped by, being in the store daily myself, I've had an opportunity to reflect on all the beautiful clothes I'm surrounded with and realize along with denim; tee-shirts would positively be my second obsession.
Although my tee-shirt drawers are overbrimming, I haven't hesitated to treat myself with a few more (I think that's called retail therapy). In the 37 years of sharing my passion for fashion, I can honestly say, I have always offered a large selection of them to my clients, whether they have been "trending" for the season or not. Again being a child of the '60s and 70's I was there when they gained popularity. Nothing has ever been such an iconic fashion and cultural piece like the tee-shirt.
Initially, worn as an undergarment, an item for self-expression in the '60s and '70s, and of course for pure comfort, nothing can be as diverse a fashion piece as a tee shirt.
A classic white tee under a dark blazer with trousers, jeans or a pencil skirt never goes out of style. Nothing can create a clean palate for jewelry quite like a tee-shirt. Embellished tees can be worn for formal affairs, and graphic tees that share a positive message can create an energy that can change a person's mood. Tee-shirts can accommodate all shapes and sizes, all styles, and allow the person to individualize it for their specific needs and taste. Tee-shirts are a great travel item, easy to pack, won't wrinkle and can be worn a multitude of ways. Tee-shirts come in a variety of fabrics, from cotton, microfibers, rayon, modal, silk, linen; the list is endless.
Keep your wardrobe current, always have a selection of tees to complete your look, and of course, for your much needed retail therapy, we can help you with just the right tee-shirt!
Sincerely,
–Jennifer
What to Wear Now
1. This v-neck tee is an essential modern tee-shirt made of drapey twill. It has a boxy shape with a v-neck and round hem. 100% Rayon. Available in white, navy and gray.
2. Just the right amount of special touches update this tank from basic to bold! A traditional thick strap tank body offers an ultra-cool, casual, and everyday vibe thanks to the slub cotton fabrication. Turn heads with the open, tie-back details for a flirty and unexpected style twist. Available in white and green grass.
3. Take your t-shirt game up a notch with the daisy tee. Embroidered flowers and feminine sleeves make this a great alternative to your typical tee.
4. A crisp and casual t-shirt features a pastel tie-dye print.
5. A cropped boxy tee cut in light cotton. Featuring a pocket and embroidered heart patch.
6. A boxy tee cut in cotton. Featuring a cropped silhouette and red embroidered hearts at the neckline.
7. A classic style with modest details, this wide banded short sleeve Henley is in a soft cotton rib for a flattering fit with a clean finish. Available in chalk and red/orange.
8. An adorable and flattering piece, this sleeveless v-neck A-line top has side gathers that create a peplum effect, and an open slit at back hem. Linen and cotton.
9. Short sleeve boy cut tee in slub Supima cotton. Featuring embroidered hearts and center back seam.