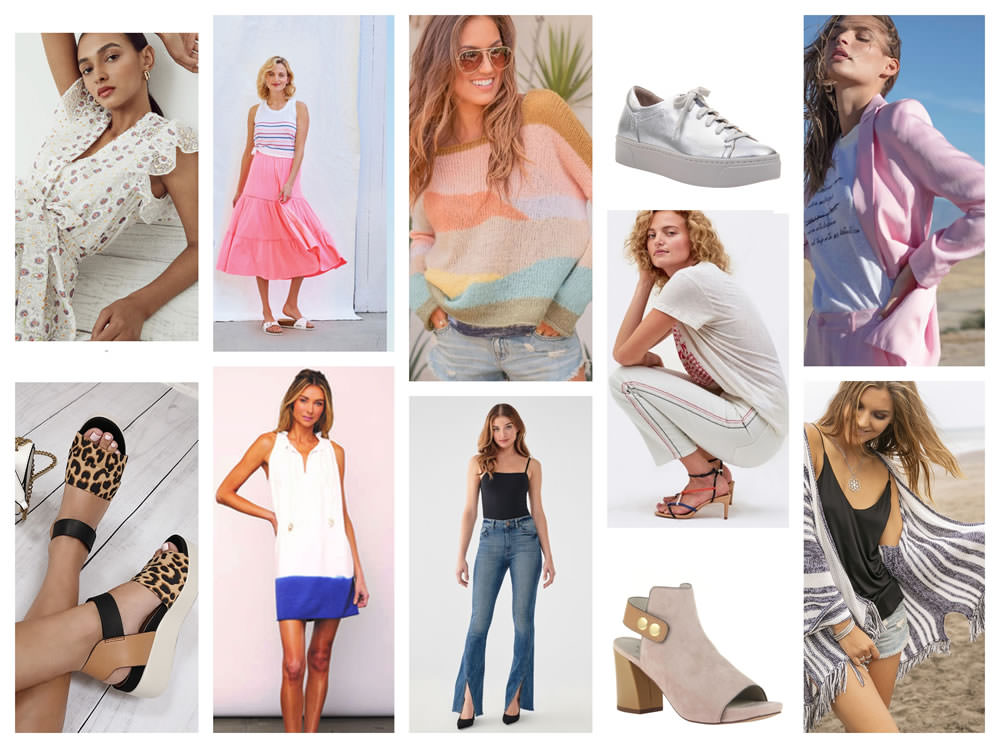 …Make Lemonade!
For those of us in Southwest Florida we are seeing the temperatures creep up near 90, indicating that spring has arrived. Spring brings with it so many wonderful things; warmer temperatures, flowers in bloom, a "rebirth" so to speak. In light of the current health crisis that is affecting everyone, spring just doesn't seem the same this year.
I have always been that person who makes lemonade when life gave me lemons, and at 59, I've experienced many of life's challenges. Faith has been the constant that has carried me through, along with staying focused on all the good around me, including the many wonderful people in my life.
Staying focused while at home can be so difficult right now, but what better time to purge, clean and get rid of some of the old things we're hanging on to in our closets. Giving ourselves the opportunity to have a "rebirth" at home, is a sure fire way to feel better.
As closet purges can seem so difficult, my general rule of thumb is: anything you haven't worn in the past season should be eliminated. Spring of 2019 items that you never wore certainly won't seem exciting for spring 2020. Fall 2018, and winter 2019 items that never left the closet won't be fresh for fall 2020. While some items are the exception; dressy or formal wear, your absolute "can't get rid of", or the weather didn't offer the opportunity to wear, you might want to keep.
The joy of cleaning out your closet offers many benefits, being able to share with those less fortunate, having more room in your closet to see what you actually own, love, and want to wear and a sense of accomplishment.
New Merchandise Is Arriving Daily, And I Have To Say It Is ALL Amazing!
Staying focused on the future is always a good thing, so here are some of the spring 2020 trends to look forward to seeing from us.
Skirts have previously been the sleeper item of fashion, and I'm here to say they are back! Look for the most flattering of all lengths, the midi, worn with everything from flip flops, sneakers or heels, your choice. Always a fashion staple, the mini is showing up in everything from denim to silk. Skirts lend themselves to our warmer temperatures.
Previous seasons have brought us the cropped flare pant in all varieties from denim, twill and silk. They are still a "must have" as are the full length wide leg; dressy or worn with sneakers for an updated look.
We can't forget one of the new trends continuing, the jogger, again, they are worn for super dressy as well as casual. Staples such as the slide on pants are still a favorite, ankle length being the most popular, with capris taking a backseat.
Denim, always a favorite of mine is coming up, literally! Details on these high waist jeans are reminiscent, of the 70's and are subtle but offer something on trend and different. Hem details are fun, as are the newer washes with distressing but in a more sophisticated manner.
Spring patterns offer something for everyone, floral; muted and bright, camo, a huge trend, again deep shades and muted shades of pinks and sands. We love our stripes and they have become somewhat of a classic, tie dye never seems to go away, and none of these can be outshined by the small prints that we can't get enough of such as stars and hearts. Who doesn't need a heart right now?
Little trends to keep your eye on: embroidery, rope tie details on tops, dresses and pants, animal prints (all animals are getting equal billing), slit details, hem details, especially raw edge trim and the color pink.
Fashion is fun, a true form of therapy, so go ahead and clean out that closet, and make room for some of the season's newest looks.
Praying for health and safety to all.
—Jennifer
We are here to serve you. Call or text us at (239) 849-1833, email or message us on Facebook or Instagram.   We can shop with you over Facetime, create a personally-curated box ready for curbside delivery or ship to you free!   In-store shopping is available by appointment.